Vibrant and ever-changing, Berlin is a city like no other. It has a certain charm you will not find anywhere else in the world, largely due to its unique history. And whether you're travelling for business or pleasure, you will undoubtedly find something to entertain you. Berlin is more of a collective, rather than a single city, made up of several different towns and villages, each with its own personality exemplified by its residents. In a city that sparkles with energy and creativity, it should come as no surprise that Berlin is home to some of Germany, and Europe's, most successful startups. This also makes it the perfect place for international professionals.
Insights into Global Mobility
Networking has always been a vital part of the startup and international business communities. Despite the challenges posed by the pandemic, Daniel Zinner from CLEVIS and Noah Mobility, and Mira Pathak from AIRINC managed to host an in-person event featuring personally invited attendees.
Operating under the People Mobility Alliance banner, Daniel and Mira engaged in insightful conversations with global mobiltiy managers, HR specialists, relocation and imigration consultants, as well as the individuals who enable the global mobility industry – expats and immigrants.
In the following article, we share the insights gathered at the event.
People Mobility and current trends
The event's central theme was "People Mobility", with discussions delving into the complexities of visa and immigration when relocating to Germany, as well as the administrative challenges faced by many new individuals and businesses.The ongoing housing crisis in Berlin also sparked lively discussions.
Diving deeper into the topic of global mobility, conversations largely revolved around the correlations between mobility and talent, strategies for cost control and predictability and the need for enhanced flexibility to enhance the overall employee experience.
Global issues also took the spotlight, with discussions touching upon the growing trends of remote work and hiring from anywhere. Particularly hot topics surrounded the associated compliance challenges that come with remote work and the role of Employe of Record companies in this landscape.
Key questions and discussions
Many questions emerged during the event, including:
"Are digital nomad visas here to stay?"
"How can companies effectively manage a global, remote, and diverse workforce?"
Naturally, these questions led to conversations about the importance of flexibility in policies and fostering diversity and inclusion across the board.
Putting people at the heart of mobility
A common thread that ran through all discussions of the event was the delicate balance between embracing technology and preserving personal interaction. Achieving this balance is challenging and benchmarking surveys support this notion.
Of course, technology undeniable plays a pivotal role in the future of mobility. But it must also be balanced out with personal support for assignees and their families. Striking the right balance is a task that fals to each individual company. Above all else, it was unanimously agreed that people should remain at the core of mobility initiatives.
A successful global mobility event
People Mobility Alliance extends our heartfelt gratitude for the success of this event. We would also like to extend further thanks to John Ismailoglu from Allianz F200 for hosting the panel.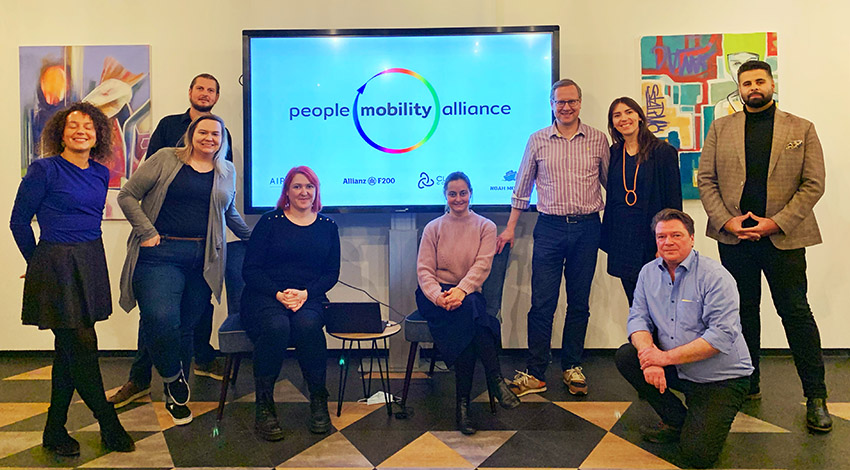 Our event was sponsored by CLEVIS Counsult, Noah Mobility and AIRINC.