Community discussion about remote compensation – in-person event summary, Berlin, May 2022.
In collaboration with Deel, the platform built to help companies hire remotely, People Mobility Alliance hosted an intimate community event around the topic of remote work. The gathering brought together experts, service providers, employees and freelancers to discuss one of the most pressing topics in the world of people mobility today: remote work and how to compensate remote employees.
What does remote work mean?
Before diving into the main topic of remote compensation, initial discussions centered on the fundamental question: What exactly does remote work mean? This question uncovered further, more nuanced questions:
Does remote work refer to the popular "work from anywhere" concept?
Is it synonymous with working exclusively from your home?
If so, what difference does it make if you working in your country of residence or from abroad?
For professionals well-established in the people mobility, global mobility and talent mobility world, the answer to the last question is vital to understand due to compliance issues. While compliance is an inevitable topic in any conversation related to remote work, its prominence was kept to a minimum during this event to allow for further exploration of the main topic – remote compensation.
How can you implement remote work?
For many well-established companies, remote work is an entirely new concept. They are still in the initial stages of implementing remote working setups in their existing frameworks. Some industries are not in immediate need of remote work, leading to a diverse range of perspectives on what exactly remote work should and can look like.
The insights shared during our discussion spanned a wide spectrum and included contributions from talent and global mobility managers, recruiters, HR specialists and people managers.
One recruiter specialising in IT emphasised that remote work benefits in his industry may not be as crucial as salary compensation. Conversely, an HR manager highlighted the importance of integrating remote work into employee benefits packages to create attractive value proposition for candidates.
Industries often struggle with talent shortages in their local areas, therefore making it necessary to offer remote working benefits. According to the 2022 AIRINC Mobility Outlook Survey, 45% of companies allow remote work on a case-by-case basis for eligible employees. Meanwhile, 24% of companies incorporate remote work as part of their core offering, permitting staff to work remotely or from anywhere for short, defined periods in order to boost their attractiveness as an employer.
However, these "defined periods" can sometimes be as short as just 15 days. Many employees desire longer stints of remote working options. These constraints around short, fixed remote work periods are rooted in the complexities of setting up remote working benefits.
Addressing in-person roles
Many organisations have a mix of employees with varying work arrangements. In industries like manufacturing, there are many jobs that employees simply cannot perform remotely. This mix of arrangements brings up a fundamental question: How can a company justify treating employees differently based on the nature of their roles?
Our experts unanimously agreed that using the excuse "it's the nature of the job" is insufficient. Instead, companies must offer other benefits to compensate for employees who cannot work remotely.
How can employers compensate remote employees?
Returning to the primary focus of our event, the panellists continued their discussion on compensating remote employees.
Starting with the considerations regarding the types of compensation packages that should be offered. Should relocation assistance, schooling for children, or housing allowance be part of the package? The resounding answer, as is often the case, was "it depends." And indeed, there are several factors at play here. Some include:
Specific needs and preferences of the remote employee
Company policies and budget constratints
Cost of living in the old and new working locations
Tax implications and regulations
Housing availability and affordability
Employee's family situation
There is no "one size fits all" solution for compensation packages for remote employees.
However, companies can, and should, effectively compensate remote employees moving forward. Deciding on compensation packages is complicated. There are many variables at play, including whether the move is initiated by the employer or employee, and whether the company is hiring the employee from their desired working location already.
Luckily, the salary compensation process is much less complicated. By considering the differences in the cost of livin, taxes, and housing, the employer can make comparisons with ease. Ultimately, when it comes to remote work, employers must respect their employee's purchasing power without overcompensating with overly generous packages given to traditional expatriates.
AIRINC has developed a tool to help run such comparisons, providing potential employees with a base salary that allows them to keep their purchasing power. For companies with an existing salary range based on local employees, the AIRINC tool offers assessments of how the salary offered by the company aligns with the current one. This tool proves invaluable for employers preparing for salary negotiations.
Remote work is here to stay
While differing opinions emerged regarding the definition and fair compensation of remote work, our event attendees were united about one thing: remote work is here to stay. Several organisations in Germany, including Noah Mobility and CLEVIS GmbH, offer assistance to other companies and individuals seeking the advantages of remote work.
However, it is vital that companies carefully plan the integration of remote work into their frameworks and to ensure equitable compensation for all employees. Remote work packages should always be mutually beneficial. The hardest, and most important, part is getting it right before rolling it out throughout the company.
Summary
Our panellists and audience made this event a success for People Mobility Alliance. We gathered insights that shed light on the complexities and considerations that companies must navigate when looking to employ and therefore compensate remote employees. The resounding consensus is that remote work is here to stay, but developing mutually beneficial compensation packages remains a difficult and multifaceted challenge for everyone.
Although "it's complicated" was the top answer when it came to compensation packages, this also highlights the necessity for developing a tailored approach towards employees. As the remote work revolution continues, employers must proactively prepare their strategies to ensure remote work is not just available to employees but is also beneficial to the parties involved.
Our event sponsors' expertise serves as a testament to the importance of staying ahead in this transformative landscape.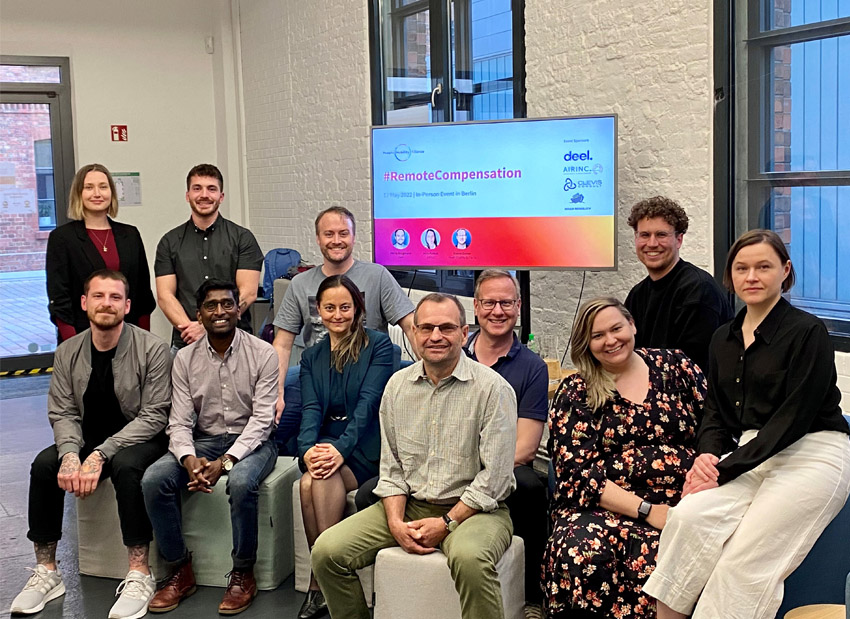 Event Sponsors: AIRINC, CLEVIS Consult, deel, Noah Mobility